The Master's and Doctorate programs in Biological and Medical Engineering UC have the infrastructure and equipment necessary for students to develop their research and learning.
The Institute of Biological and Medical Engineering UC is located on the 7th floor of the Science and Technology Building with 800 m² in which are the offices of the academics and professionals of the IIBM UC, as well as the secretary responsible for serving students and its academic coordinator. There are also three meeting rooms, and a file, as well as three teaching laboratories on the same floor, ready for teaching and research, along with four experimental rooms (16 m²) and a 60 m² study room with 36 work stations .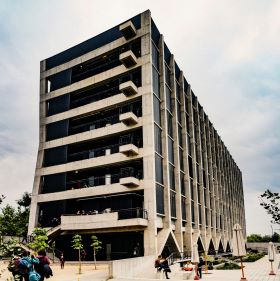 Regarding the equipment, the most relevant are: 1) access to Magnetic Resonance Imaging (MRI) scanners, 1.5T whole body in San Joaquín, 3T full body in Central House and 1T for animals; 2) mass spectrometer; 3) 25 ton hydraulic press; 4) cell cytometer and classifier; and 5) access to the Advanced Microscope Unit.
Laboratories
The Science and Technology Building has 316 m² intended for laboratories. Each of them of around 100 m² with space for 30 students. The laboratories are divided according to thematic:
Biomedical Engineering Laboratory
Biological Engineering Laboratory - Tissue
Biological Engineering Laboratory - Bacteria

In addition the professors count on other laboratories and associated spaces, where they develop part of their investigations.